Creepyworld 2016 - America's Biggest and Longest Haunted Screampark is back and bigger than ever. In 2016 Creepyworld will feature 13 haunted Attractions in one location including TWO all NEW haunted attractions including Krampus A Christmas Horror Story and Night of the Living Dead Haunted Hayride. Creepyworld haunted Screampark is not only the biggest haunted attraction in St Louis but we know of no other haunted attraction in America with more haunted houses than Creepyworld. When you visit this attraction in 2016 be prepared to experience over an hour of sheer terror inside our two new haunted houses and our other attractions including Krampus, Silo-X, Hornbuckel Pig Farm, Doll House, Haunted Graveyard, Carnivorous in 3D, Dark Zone, Haunted Hayride, Evil Dread, Supermax, and Haunted Hospital plus the Hollywood Pumpkin Display and the Worlds only all dead Zombie Band.

The admission for Creepyworld has stayed the same price!
Creepyworld will feature TWO all new attractions in 2016.




Last year CREEPYWORLD FEATURED TWO ALL NEW HAUNTED HOUSES including the Haunted Doll House and Whispering Woods Cemetery. In 2016 we will offer two new haunted attractions as well including the major addition Krampus A Christmas Horror Story. Are you ready to come face to face with Krampus?


Krampus a Christmas Horror Story takes you to an average St Louis home getting ready for Christmas when suddenly Krampus invades snatching the children and killing the parents. You come to visit your friends and find yourself trapped by evil snowmen, killer elves, ax welding Santa and Mrs Claws with poisoned cookies. Trolls gather up the Children and take them to Santa Claws evil castle where you come face to face with a 12 foot tall Krampus. Your Christmas will never be the same! Do not open the presents, don't eat the cookies, run and hide because Krampus is coming for YOU!





THE DOLL HOUSE HAUNTED MANSION (new 2015): A giant old Victorian mansion now rests abandoned deep in the woods near Whispering Winds Cemetery. Legends tells of a family possessed by the dead spirits of Whispering Winds. The mansion was built on top of the old graveyard and the unsettled spirits had possessed an old porcine doll collection held by the families daughter. In October of 1918 the entire family was killed and the families daughter disappeared the only thing found was over 300 porcelain dolls. The house was sealed and now over 100 years later the old mansion still standing, has been discovered overgrown by weeds and trees. A team of paranormal investigators unsealed the mansion and found something so shocking it couldn't be aired on television. NOW you have the chance to enter the old mansion and come face to face with possessed demonic dolls and the spirits of evil undead.



Creepyworld has also totally revamped the haunted hayride with new zombies, monsters, giant creatures and much more. The Night belongs to the Dead inside the Night of the Living Dead Haunted Hayride new at Creepyworld 2016. Creepyworld also features food, drinks, and live music from the World's only all dead band. Additionally Creepyworld features a World Class Carved Pumpkin display.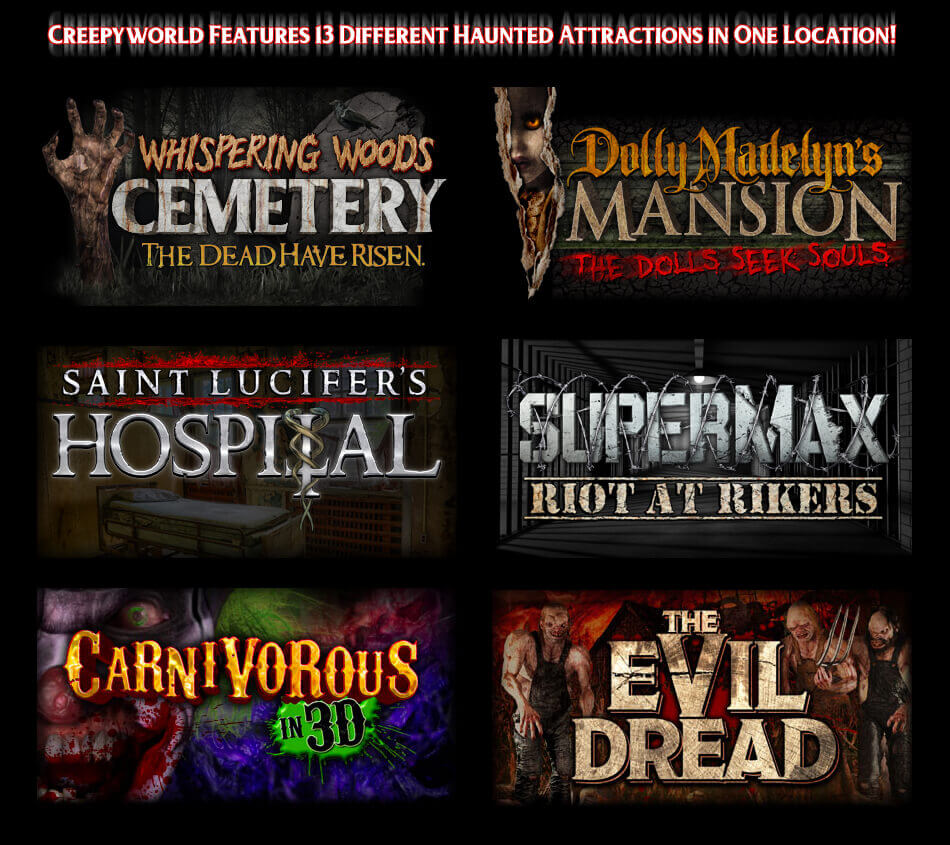 Every year Creepyworld gets bigger, scarier and better than the year before and 2016 is no exception. Are you ready for over ONE HOUR of SHEER TERROR? We strongly suggest you buy your tickets online and add the hayride to your ticket to ensure a ticket to the hayride. Creepyworld is the biggest, longest and best haunted Screampark with 13 attractions in one location. Even though we add entire new haunted houses each year we also make our older ones scarier. Are you ready? Get your tickets ONLINE and save time at the box office.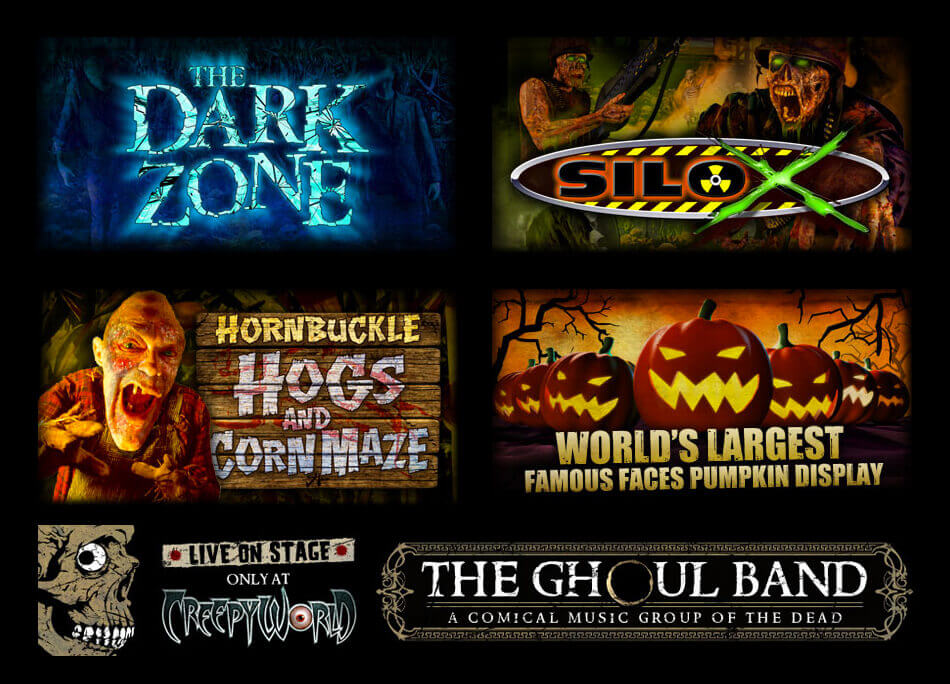 2016 will be the biggest YEAR OF FEAR at Creepyworld ever!
Creepyworld is without any doubt the biggest, longest, and best value in America not to mention St Louis!
We'll see you at Creepyworld 2016... fear is here at Creepyworld Haunted Screampark!
BUY TICKETS ONLINE AND SAVE TIME AT THE ATTRACTION


WATCH PREVIEW FOR THE NEW KRAMPUS HAUNTED HOUSE BELOW 2016


2015 Creepyworld Haunted House Preview Video


NEW DOLL MANSION AT CREEPYWORLD 2015